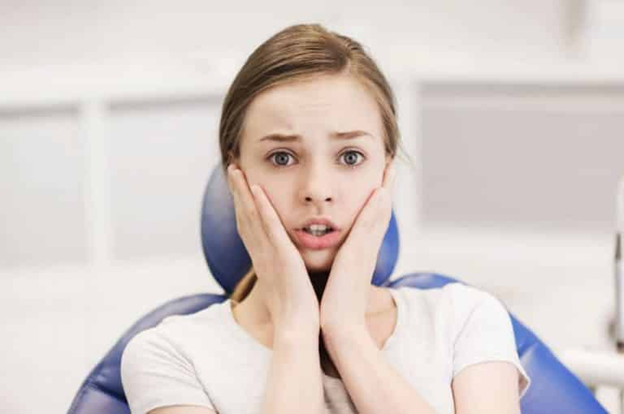 A mother with two small children. She knows the value of dental treatment, and takes her children to the dentist regularly. Their teeth are healthy and clean, and so far have had no cavities.
But her teeth are another story entirely. She doesn't know of the new relaxation options for anxious dental patients. When she was a child, dental techniques were not so gentle as they are today. She recalls the hour spent in the chair with horrible tastes in her mouth with no way to swallow or be comfortable. She remembers sitting in agony with no anesthetic while a cavity was being prepared and filled. She remembers the smell of the antiseptic and the feeling of being trapped in a chair.  And though her teeth desperately need a dental visit and she knows modern dentistry is better, she remains reluctant to go or even schedule the time.
If this sounds familiar, you're dealing with the realities of dental anxiety…and help is available!
Behavior Modification
As with any form of anxiety, behavior modification can provide a source of relief. When you become aware of the connection between your mental state and physical tension you may find ways to relax.
Yoga can train you to focus your mind, breath, and muscles together. Those who practice yoga often have a calmer, more peaceful outlook on life.
Breathing: Many focused breathing guides can be found online. There are several basic ones that may work for you, here. Include visualization, such as breathing in a golden light representing peace, and exhaling or releasing any anxious feelings.
Bring a friend of family member with you to your appointment. Having someone who can provide a calming influence may make you feel better about your time in the chair.
Sedation and Anesthetic
Aside from behavior techniques that may provide relief to your dental anxiety, you should know that the dental office is more comfortable and provides a wider variety of options for pain and relaxation. There is no longer any reason to perform a treatment or extraction without an anesthetic or sedation. Even standard exams and cleanings can be done under a light sedation if necessary.
Local anesthetic numbs nerves in a small, immediate area. Fortunately, numbing gels and newer anesthetic techniques make getting numb not so uncomfortable!
Nitrous oxide sedation ("Laughing Gas") provides fast, gentle relaxation that can be reversed 100% so that you can drive yourself home afterward.
Oral sedatives allow you to experience more of a dream-like state, where you are semi-conscious but unlikely to remember anything about the appointment.
Don't Be Afraid of The Dentist Anymore!
If you are like the mother of two who is afraid to go to the dentist, it's time to get the gentle dental care you need.
At Rushmore Dental, not only will you receive excellent dental care for long overdue issues, you'll also have a comfortable exam with a gentle touch. Contact our Rushmore Dental office to schedule your appointment.