If you have lost a tooth or even several, you do have the option of restoring your smile and your function back to perfection. Dental implants are one of the latest, most permanent tooth restoration solutions available.
The traditional method of replacing a missing tooth involves anchoring a bridge to the teeth on either side of the space. Those teeth must be crowned, and that requires reducing or grinding down otherwise healthy tooth structure. However, an implant is a free-standing artificial tooth. Placement of dental implants does not damage the adjoining teeth.
Before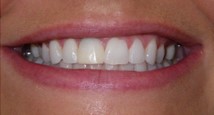 After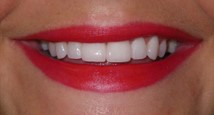 Following a consultation and thorough examination, Dr. Tim Kelly will consider whether an implant is the appropriate treatment for you. We will x-ray the area in need of treatment to determine if the bone density is adequate to support the implant. We may suggest a 3-D imaging cone beam scan that will give us the pertinent information of where your nerves are. If the nerves are not pinpointed, this may lead to some complications of the implant procedure.
Your implant placement visit will be scheduled after all of your records are taken and ensured for success. You will then receive the implant titanium screw into the missing tooth space. We allow a few months for healing and to be sure the titanium implant screw has integrated securely into the bone.
After a few months of the integration and determination that the implant has integrated, you will then be ready for the implant crown visit. First an abutment is placed. This is a tiny post that holds your new tooth securely and acts as the attachment between the implant screw and the implant crown. Then, the implant crown, prepared specifically for you to match your natural teeth esthetically and adjusted for proper bite, is fitted onto the abutment.
Rest assured this whole procedure is treated with comfort and with state-of-the-art anesthesia.
A commitment to home care is important to the longevity of your implant. You will need to brush and floss daily, and see your dentist for regular cleanings and check-ups. Smoking, poor diet, poor oral hygiene can shorten the lifespan of your implant.
Your new tooth is very durable and solid. It looks, feels, and functions just like your natural tooth. Also, with proper home care, it will last your lifetime!